Frequently Asked Questions: Dr. Tonay's Psychotherapy Practice
Inside the therapy room
Do you have any openings now? Do you see people in the evenings?
My practice is part-time, which allows me to teach (at UCSC), do research, write, and focus on the clients I have, so openings are sometimes limited. Please feel free to call my office, 831/429-7910, or email me at drtonay@veronicatonay.com about openings. (If you email, and do not hear back within 24 hours, please check your spam box; if you've phoned, please leave another message, speaking your phone number slowly and clearly--thank you!)
How long have you been in practice?
I began my first internship in 1990 and was licensed in 1997.
What are your credentials?
I am fortunate to have had excellent training: BA, Honors, Psychology, University of California at Santa Cruz. MA, PhD Psychology, University of California at Berkeley. California psychologist license, 1997-present, PSY #15379. Psychological assessment and evaluation training at the Institute of Personality Assessment and Research (IPAR), UC Berkeley. Taught personality psychology at UC Berkeley for two terms, and have been teaching personality and clinical psychology courses at UC Santa Cruz each year since 1989. Several research publications; conference and workshop presentations; newspaper, magazine, radio and television interviews on psychology and psychotherapy topics; was featured as an expert on the Dream Decoders Discovery Health television miniseries, and have written books. I also consult widely on psychotherapy, psychology training, and on dreams.
Can I use my insurance? What about the Affordable Health Care Act?
Insurance companies in California, under the Mental Health Parity Act, are required to cover mental health treatment for very few disorders (including schizophrenia, bipolar disorder, and major depression), which the Affordable Care Act now mandates for the entire country. Most insurance companies do not cover what most people seek therapy for (including adjustment difficulties, relationship difficulties, PTSD, phobias, stress, the effects of childhood abuse). Very few cover couples therapy at all. Although they may provide some reimbursement for some disorders or for a given number of sessions per year, that amount is often less than you would receive in a tax credit for a medical expense.
I am happy to provide you with a monthy statement to send to your insurance company for reimbursement. I don't contract with HMOs or PPOs because of the breach of confidentiality required in obtaining payment for services to you and in obtaining continuing permission to treat you, and the ethical dilemma required when allowing an insurance agent to dictate the treatment of clients they have never met.Clients who have a qualifying diagnosis and are with Blue Cross and many other insurance plans are typically reimbursed for my out-of-network services from between 40% to 75%. If you have a qualifying diagnosis and want to use your insurance, please check with your provider to find out if they will allow you to seek care "out of network" at a lower reimbursement rate (most do), or if they will allow you to select your own psychologist.
Do you see people with my problem?
I see individuals and couples, and specialize in working with those with relationship issues, depression/loss, anxiety, survivors of childhood abuse, creative people, and those going through life transitions. (Several of these groups tend to overlap!) The ethics of psychologists require psychotherapists to use demonstrated, effective methods to treat clients. As such, I employ psychodynamic (object relations, Jungian, ego psychology), cognitive, behavioral, and supportive-expressive systems of psychotherapy, using the model that has been demonstrated to be most effective for the difficulty or condition facing each particular client. Fortunately, my training was broad and deep, and in teaching, I continue to learn.
How much do you charge?
My fee is based on the national and Bay Area average for psychologists. Psychologists do charge for the first session, just as other healthcare providers do. I accept checks and cash for payment at the end of each session. Credit cards can be billed via paypal, who charge approximately 3.5%.
I once saw a psychotherapist who tried to become friends with me or start a romantic relationship with me. Is that appropriate? What should I do?
Psychotherapy is a special, one-way relationship which is designed to enable clients to heal. It is not designed for the gratification of the therapist's interpersonal or relational needs. Personal relationships between therapists and clients are strictly addressed in all psychotherapists' professional ethics codes. Sexual relationships between clients and therapists are also against the law. Because of the one-way nature of the therapeutic relationship, personal relationships outside of therapy necessarily involve an imbalance of power (the therapist knows lots about the client, but the client knows little about the therapist) and therefore can harm the client. If you or someone you know has been in an unethical relationship with a prior psychotherapist, please click here for information. To report an unethical psychotherapist, please contact: Board of Medical Examiners (psychiatrists), Board of Psychology (psychologists), Board of Behavioral Science Examiners for masters' level therapists (MFTs and LCSWs).
What are the different types of psychotherapists?
Psychiatrists are medical doctors who primarlily specialize in medication these days, not psychotherapy,but if they do psychotherapy, they are "board certified" and trained to provide therapy for any condition. Psychologists are the next most highly trained psychotherapists: becoming a psychologist requires a 4- to 6-year doctoral degree (PhD). Psychologists are trained to provide therapy for any condition, and to do psychological testing and evaluation. Therapists who become licensed after obtaining a masters (1- or 2-year) degree are called marriage and family therapists (LMFT--licensed to work with couples, families, and individuals only if they are dealing with relationship concerns), or licensed clinical social workers (LCSW--can work with anyone, typically in helping clients to adjust socially). There is a new master's degree category of licensed counselor called LPCC (licensed professional clinical counselors), which requires fewer supervised hours and less coursework than does the LMFT. Interns also provide psychotherapy of various kinds under the supervision of a licensed professional; they are still accruing experiencing working with clients before becoming licensed. Here is a link for more information.
What is the difference between psychotherapy and counseling?
There are many types of counselors: addiction counselors, vocational/career counselors, marriage counselors. Counselors are well-trained in active listening and how to offer knowledgeable advice to help people solve short-term, short-duration problems. Psychotherapy results in character change; it is for those experiencing psychological difficulties such as repeating relationship patterns, mood disorders (anxiety, depression), chronic substance abuse unresolved by addiction counseling or participation in 12-step programs, identity and self-esteem issues resulting from childhood abuse or other trauma, and deep loss. Those who benefit from psychotherapy usually have tried advice, and they need something more. That "something more" requires more than a year or two of training and experience to provide.
How long will psychotherapy last and how frequent will sessions be?
During our first or second session, I will let you know how long psychotherapy tends to last for people experiencing your particular difficulty. It is very difficult to develop a therapeutic relationship and achieve lasting change for most difficulties in fewer than six months, although therapy for phobias, short-term issues, uncomplicated depression, and so on typically lasts between 3 and 6 months. Most people attend psychotherapy once per week. Twice per week may be necessary for a short time during crisis periods.
Am I going to have to take medication?
No. Although medication has proven helpful for people with severe mood and psychotic disorders, its effectiveness for mild to moderate mood disorders has proven no better than placebo. Psychotherapy has been demonstrated to work as effectively, or more effectively, than medication for depression and anxiety. For those with extreme suffering, however, medication is helpful for a time to put a "floor" under the depression or to provide a calmer mood from which to explore and heal the disorder. (Please see links under "does psychotherapy work?")
<-- private waiting room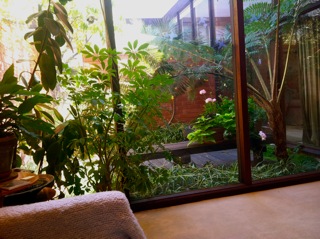 <-- inside the therapy room
What happens when I come in for the first time?
You will arrive in my waiting room about ten minutes before your session, where you will fill out a short biographical form and read my consent form. I will come out of my office to greet you (you will be leaving out a different door to preserve your privacy). After we enter my office, I'll review your form and ask you what brought you to see me. During the first sessions, we'll discuss confidentiality and any questions you may have, and I will be taking a history of your problem to learn more about it and you. I'll be determining whether or not my training and experience match your needs, and whether or not I feel I can help you. You will also be deciding whether or not you feel you want to work with me. If not, I will refer you to another psychotherapist. Within the first few sessions, I will let you know how long your therapy is likely to last, how it will progress, its risks and benefits, and what we will be doing during the sessions.
Will my friends and family find out I'm coming to see you?
Not unless you tell them! There are very few exceptions to psychotherapy confidentiality rules. Maintaining your privacy is extremely important--so much so that if I meet you by chance on the street, I will behave as if I have not seen you, unless you speak to me first. All of your records are likewise kept confidential according to HIPAA rules.
Does coming to psychotherapy mean I'm crazy?
No! What people mean by 'crazy' is 'psychotic,' 'delusional,' or out of touch with reality. Very few people with those diagnoses function well enough to seek out or be able to participate in psychotherapy. In fact, studies show that people who seek out psychotherapy are actually MORE psychological healthy than the general population! This may be because it takes great strength to make the decision to heal and to get help. Psychotherapy is becoming more and more popular. Many people have sought psychotherapy at one time or another: athletes, business people, artists, academics, and admired public figures have obtained and benefited from psychotherapy, so you are definitely not alone! In addition, most psychologists have gone through their own psychotherapy in the course of their training, and may consult with other psychologists from time to time in order to continue to offer the best care to their clients.
Does psychotherapy work?
Yes. Although no one can guarantee psychotherapy will work for every individual person and circumstance, there is a massive amount of research evidence on the overall effectiveness of psychotherapy. It is summarized here. (The article also summarizes the less-than-overwhelming support for some medications.) For immediate suggestions for various conditions, please click here.
---
home ~ books ~ psychotherapy ~ classes + workshops ~ contact ~ blog